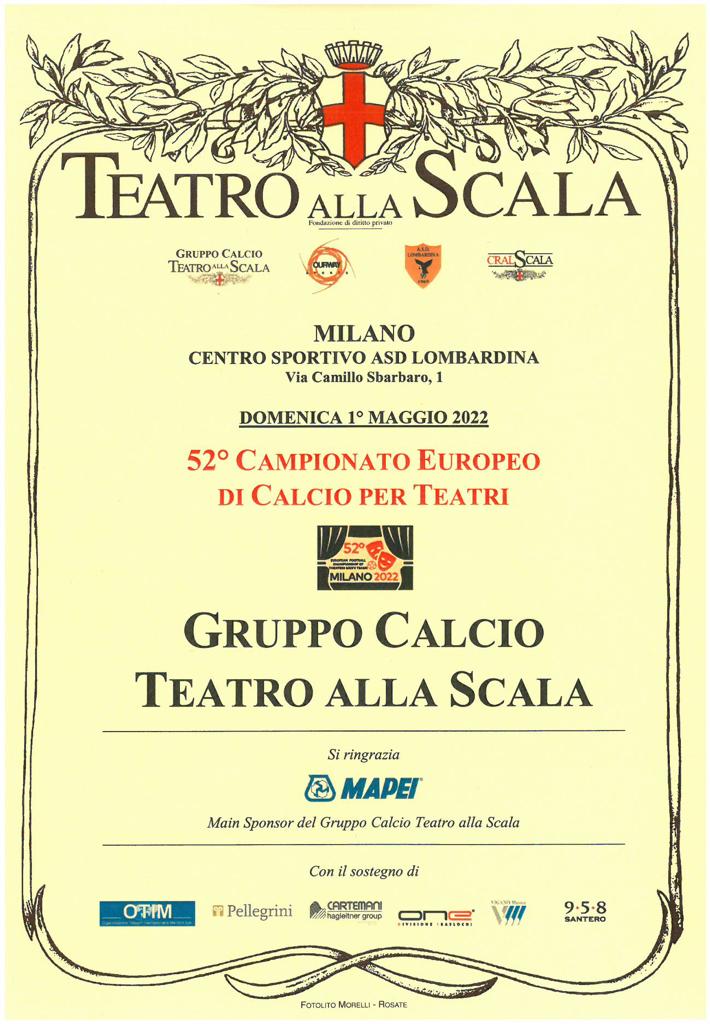 52ND EUROPEAN FOOTBALL CHAMPIONSHIP OF THEATERS
03/05/2022
Following the full report of the day!
Un encomio alla vita, un inno allo sport. Dopo due anni di fermo causa pandemia, la 52esima edizione della "European Football Championship of Theaters" si è ufficialmente disputata.
La competizione, svoltasi nel corso della giornata del primo maggio presso la società sportiva A.S.D Lombardina, oltre all'ormai storico contributo del "Gruppo calcio La Scala" ha visto la compartecipazione del network di eventi sportivi "Futsal League", operante nelle città di Milano e Pavia.
Fondata nel 1970 con la partecipazione di sei squadre, il campionato dei teatri si è svolto in Svizzera fino al 2000, anno in cui l'evento è diventato itinerante. L'edizione più importante è stata disputata a Monaco di Baviera, nel 2000, e ha visto la partecipazione di 40 squadre.
Quella odierna è stata la quinta edizione tenutasi nel capoluogo lombardo (2002, 2003, 2015 e 2018 le precedenti) e, a distanza di vent'anni dall'ultima volta, a portarsi a casa la vittoria è stata la rappresentativa del "Teatro alla Scala".
Oltre al celebre teatro meneghino, hanno preso parte all'evento anche gli sloveni di "SNG Maribor", il "Teatro Lirico di Cagliari", "Filarmonica La Scala" e la compagine internazionale "All European Stars".
Le cinque squadre si sono sfidate in un girone all'italiana, al termine del quale le prime quattro classificate hanno disputato le semifinali e, infine, finalina e finale; al termine dell'evento è seguita la cerimonia di premiazione, accompagnata da un piccolo rinfresco.
Momenti del genere, all'insegna dei valori veicolati dallo sport e della sana competizione, rappresentano la semplicità del gioco del calcio, talvolta divisivo ma il più delle volte capace di generare coesione ed un forte legame fra le persone.
Di seguito, l'articolo de "La Gazzetta dello Sport": parlano proprio di noi!
https://www.gazzetta.it/Calcio/altri-campionati/02-05-2022/teatro-scala-trionfa-european-theatre-football-championship-440311094893.shtml
A hymn to sport, an encomiastic tribute to life. After two years stop due to the pandemic, the "52nd European Football Championship of Theaters" had officially been held.
The tournament, disputed entirely on the 1st of may at "A.S.D Lombardina", had been promoted by "Gruppo Calcio La Scala" together with our network, Futsal League. Launched in 1970 with the partecipation of six teams, the competition was held in Switzerland until 2000, when it got itinerant. The most important edition was held in Munich, Germany, in 2000 and 40 teams were involved.
After 20 years, "Teatro alla Scala" had got the overcome after having beaten All European Stars in the final. Moreover, also the sloven of SNG Maribor, "Teatro Lirico di Cagliari" and "Filarmonica La Scala" teams had been involved.
The tournament began at 10 am with the opening round and, after one hour lunch break, the group stage finished at 5.30 pm. Then, semifinals went on until 6.30 pm.
Eventually, the 3rd/4th place final and the final. The premiation ceremony had been accompaigned by Luca Papa (president of Futsal League) and Andrea Vitalini's (Chief of Gruppo Calcio La Scala) speeches.
Moments like these represent the real essence of football, a simple sport able to create a strong connection between people and to spread common values based on respect and solidarity.
Following, the article published on the italian newspaper "La Gazzetta dello Sport": it actually speak about us!
https://www.gazzetta.it/Calcio/altri-campionati/02-05-2022/teatro-scala-trionfa-european-theatre-football-championship-440311094893.shtml